Join my "Best Mom Hack" Home Organization Accountability Group where we'll break it down one month at a time to a saner, less cluttered home!
Hi, my name is Kayleigh Rose, and I have a CLUTTER problem!
Now that I'm out of the shadow of postpartum anxiety, I am "waking up" to other areas of my life where I want to improve. And I am realizing that only two years into living in our current home, we're building up quite the kingdom of clutter!

I mean, just look at my basement storage…. yea, it's so much fun trying to pull out craft supplies from this mess! Which means, we don't get around to doing that many crafts. Talk about a home organization fail!
Since Marie Kondo won't be knocking on my door, I've decided to take matters into my own hands. But I need a PLAN and the PUSH to get going. See, I am an A-type personality who either does something REALLY WELL, or doesn't do it at all. So far, home organization has fallen into the "don't bother" category – much to my family's detriment!

Clutter triggers my anxiety. I know better home organization will help me feel more calm and creative. I think it will help me be a better, more patient mother too. And I'm pretty confident I'll get better at saving instead of spending money on junk I don't need. But what I struggle with is the DOING. I need the "Just Do It!" guy standing in my home yelling at me!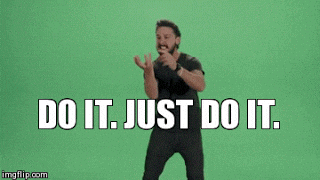 So there is where I need YOUR HELP!!! I am hoping if you're still reading this, you can relate to a little of how I'm feeling. My husband and I have decided to create a full year plan, where we focus on one area of the house each month. Why a full year? Because that's reality for us. If I tried to do one of those 30 Day organizing challenges I would burn out and give up a quarter of the way through. For me, breaking it up into chunks and areas at a time makes it feel achievable.
Here is our home organization plan:
What do you think? Would you like to join in and do these months with me? I'm creating a Facebook group where I'll house the my progress, tips I find along the way, personal motivation and other bloggers ideas (since I'm not about to turn my blog into a home organization focus). Whether you are a home organization wiz already, or you feel as frustrated as me right now, I'd love to have you in there!

Plus I have a GIVEAWAY going on in my group too. See all the giveaways and discounts I have for my readers right here.
The Facebook Group link is facebook.com/groups/homeorganizationchallenge. You may need to log in first and then come back to this blog page to view it. Or go to my Social Connect buttons at the top of my blog. That gets you to my main business page, and the group is linked to it under the Groups tab.
Here's a little more about each month, and why I laid it out this way:

January – Prep Time
First things first: put away your holiday decor! Seriously, that can take me all month in and of itself! If you are wanting to do a 30 Day home purge type challenge, this is a great month for it. I also like to think through my BUDGET. For example, is there a room you want to paint or update one month? Are you wanting to budget it for some more organization-savvy furniture, bins, etc?
February – Start with Self Love!
For a trying-to-be Work from Home Mom, I could do with putting more effort into my office area! So Happy Valentine's Day to me, I'm going to get it organized in a way that helps me feel happy and creative. Because some days I HATE sitting at my desk!
March and April – The Basement/Storage Spaces
This one gets two months because I don't know about you, but my basement storage area terrifies me! This is also a great time to organize linen closets and other storage areas in your home. Maybe you'll find some things to sell off too!
May – Master Bedroom and Closet
Happy Mother's Day! This month, I plan on organizing my closet, drawers and jewelry.
June – Garage
Happy Father's Day! I figure this month with Father's Day, there will be plenty of garage organization related items on sale, and my hubby can go wild.
July – Children's Rooms and Toys
It' summer, and my kids will be outside! I figure it's a perfect time to purge some toys – they'll be too busy enjoying the sun to notice, right!?
August – Kitchen and Bathrooms
While it's still bright in the evenings and you're doing more barbecuing outside, get organizing the kitchen!
September – Outdoor Areas
I live in a climate where it can snow in September (or literally any month). I am hoping to get ahead of winter though and organize my outdoor spaces. This is also a great month for painting a deck or fence, when it's still nice weather but not quite as hot.
October – Media Room
It's time for organizing video games, DVDs (I know you still have some), board games, etc, so you're all organized before you hermit yourself indoors watching Netflix for the winter.
November – Laundry Room & Mud Room
I have to admit, I love organizing my laundry room! I hate doing laundry though, and somehow it keeps getting messy. Plus it's a good time to switch out summer/fall gear for winter mud room supplies!
December – Living Rooms and Dining Room
While you're switching out decor for Christmas, why not purge some stuff at the same time?
So there you have it. What do you think of my list? Does my thought process make sense to you? I'd love to get your input in my Facebook group. You can click on my blog's Social Connect Facebook link and go to the Groups Tab, or follow this weblink: facebook.com/groups/homeorganizationchallenge